HOSPITAL OPPORTUNITY ASSESSMENT
"If you can't measure it, you can't improve it." - Peter Drucker
ANEMIA MANAGEMENT OPPORTUNITY ASSESSMENT
THE ASSESSMENT
The MyBloodHealth® Anemia Management Opportunity Assessment provides a valuable analysis to any administrator considering a new Anemia Management program or looking to accelerate an existing program. Based on an organization's own case volume, this assessment shows estimated revenue, cost reduction, and annual margin improvement available.
WHY THE NEED?
Today more than ever, when it comes to patient safety, every opportunity matters. Anemia is twice as prevalent as diabetes and hypertension, yet very few health systems and hospitals look at anemia management as a standard of care.
Many enterprises are using an
old paradigm

:

Anemia is common and considered relatively harmless, so it is accepted as normal.


But, it's time to shift to a
new paradigm

:

Anemia is a modifiable risk for increased perioperative morbidity and mortality. It should be diagnosed and treated before elective surgery.
WHAT's Included in the assessment?
Key financial estimates including:
Estimated infusion margin

Cost reduction

Annual margin improvement
WHO BENEFITS BY ATTENDING OUR ASSESSMENT REVIEW?
CFO

CQO

Surgical line leaders

Pharmacy

ERAS/Enhanced Recovery Strategy (Pre-admission testing)

Hematology department

Anemia clinics

Telehealth services
HOW THE ASSESSMENT WORKS
The MyBloodHealth Opportunity Assessment algorithm performs the following analysis:
Determines your hospital's case volume for the most high-risk anemic patients

Identifies groups of anemic patients who fall within the 32 non-emergent high blood loss DRGs

Applies financials including costs, charges, and payments (This shows whether your enterprise's surgical line is profitable or unprofitable)

Takes a percentage of patients from your organization's data who are considered anemic and applies assumptions based on peer-reviewed literature and our own data to calculate the prevalence of anemia and perceived outcomes

Assesses the reduction in length of stay anticipated from treating anemia and the new revenue generated through the use of pharmaceuticals (e.g., IV iron and ESA)

NEXT STEPS
Once you have submitted your request for a complimentary assessment:
You will receive a confirmation email.

Within 48hrs, you will receive an invite for an initial discussion about the results of your assessment.

During our initial review, the following can be discussed:

Additional hospitals within your health system

Current data

Additional adjustments to the final assessment and review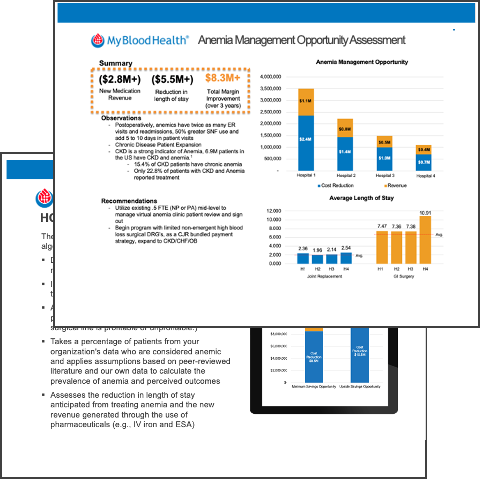 Request a complimentary assessment